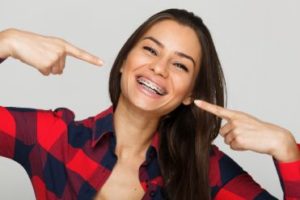 Welcome to the Columbus Orthodontic Center's new blog! Whether you're an existing patient or you haven't had your first visit yet, we created this blog to give you a go-to place for tips and tricks from an orthodontist in Columbus that will help you on your journey towards having a beautiful, straight smile. For our first blog, we'll introduce our practice and help you get acquainted with some of the services we offer. But be sure to check back in each month for information that will help you get the most out of your orthodontic experience – every step of the way. After all, when the entire treatment process goes well, you get the best results possible!
What Services Do We Provide Besides Traditional Braces?
We truly offer something for everyone, starting with patients as early as age 7. For this age group, we provide interceptive treatment (also called Phase 1) to help them minimize or even completely avoid having crooked teeth down the road.
We also provide many different options for both teens and adults of all ages, including hidden braces, Invisalign, clear braces, and self-ligating braces – just to name a few! And for patients who want to get their results as quickly as possible, we provide options for accelerating their treatment so they can enjoy their new smile in less time.
In total, we offer 11 orthodontic services, as well as gum reshaping for patients who want their teeth and gums to have the beautiful proportions that will make their smile look fantastic.
For more detailed information on the many services we offer, please see our treatments page. You'll also find great information for new patients on our site, including a 'Learn' page that addresses many of the common questions our patients have.
What Else Do We Offer?
In addition to having a board-certified orthodontist treating your smile, you'll also have the benefit of working with our friendly and highly-skilled staff throughout the entire orthodontic process. From the first day you start your treatment until your new smile is complete, we promise that you'll enjoy your visits with us!
Finally, don't forget to check out our before-and-after photos. They say a picture is worth a thousand words, which is especially true when it comes to orthodontic treatment. There's no better way to get a sense of the quality of work we do than by seeing the results we've given actual patients.
It's also a fantastic way to get inspired about your own goals and see just how easy it is for you have the smile you've always wanted. And if you want a better idea of which treatments would be best for you, scheduling a consultation is a great way to have all of your questions answered.
Regardless of age, orthodontic treatment changes lives for the better. We look forward to providing you and your family with the best orthodontic care possible!
About the Author
Dr. Amin Mason is an orthodontist in Columbus who has always made academic and professional excellence a priority. As an Ohio native, he's thrilled to serve the Columbus community and looks forward to helping his patients achieve beautiful, straight smiles they'll have for a lifetime. If you'd like to straighten your teeth and have any questions, he can be contacted via his website or at (614) 549-5835.