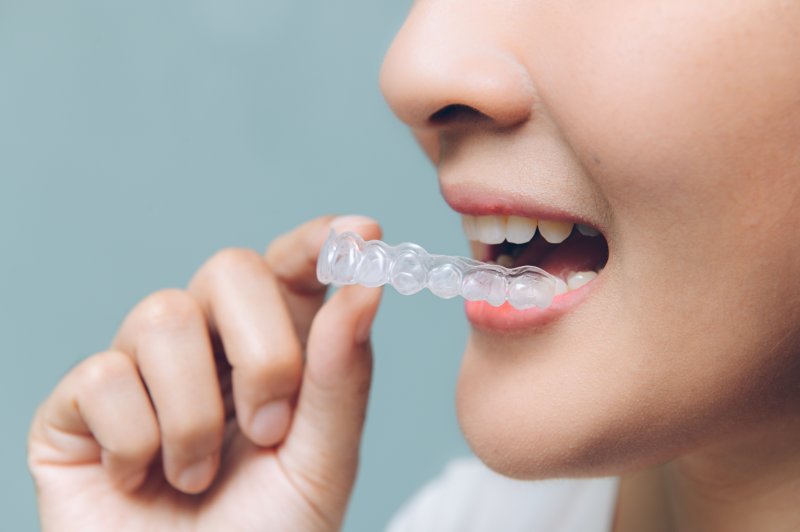 Getting braces can be a daunting prospect, especially if you're an adult who has to worry about maintaining a professional image. Fortunately, Invisalign in Columbus offers an alternative that's not only more attractive, but also causes far less pain and inconvenience. Of course, like with any orthodontic treatment, the success of your clear aligners depends largely on how well you take care of them. If you want Invisalign to straighten your teeth as quickly as possible, follow these 5 tips.
1. Wear the Aligners for At Least 22 Hours Each Day
Since Invisalign is removable, its success relies much more heavily on patient compliance than traditional braces. If you don't want to extend your treatment time, you need to keep the aligners in your mouth for at least 22 hours every day.
2. Don't Forget to Floss
You'll need to clean your teeth on a regular basis so that your aligners aren't stained by leftover food particles. Obviously, that means brushing at least twice every day – but what about the space between your teeth? Flossing is an often-overlooked aspect of oral hygiene, but it's the most reliable way to get rid of any bits of food or bacteria that you missed while brushing. Make sure that you use dental floss on a daily basis.
3. Practice Speaking with the Aligners
At the beginning of your treatment, you might develop a lisp whenever you speak while wearing the aligners. While it can be tempting to take them out so you can talk normally, the easiest way to overcome your speech impediment (and make sure that your treatment stays on track) is to practice talking with the aligner in your mouth. Reading aloud and repeating particularly challenging words can help speed up the process.
4. Clean Your Aligners Properly
Your orthodontist can show you the best method for cleaning your aligners. There are products put out by Invisalign for this purpose, but simply using warm water and antibacterial soap is also an option. Avoid using toothpaste on the aligners (since it could scratch the surface), and never expose the aligners to hot water that could warp the plastic.
5. Drink Plenty of Water
Whenever a new appliance is placed on your teeth, your mouth will produce a lot of extra saliva to try and "clean out" the new item. As a result, you can become dehydrated very quickly. Make sure you're drinking enough water throughout the day, especially during the early stages of treatment. It's also a good idea to enjoy a glass of water after a meal so that you can wash away leftover food before you put your aligners back in.
With these tips, you can look forward to a relatively quick, effective Invisalign treatment. In many cases, you'll be able to enjoy a straighter smile after about a year. Don't forget to see your orthodontist on a regular basis to make sure your treatment is still on schedule!
About the Author
Dr. Amin Mason received his certificate in orthodontics at the University of Colorado, Denver. At his private practice, Columbus Orthodontic Center, he helps patients to get healthy beautiful smiles! To schedule an Invisalign consultation, visit his website or call (614) 549-5835.