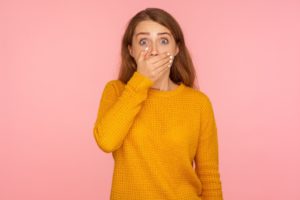 Overcrowded teeth are not aesthetically pleasing. Many people are under the mistaken impression that that is the only problem with teeth that are overlapping or too close together. However, the way they look is really just the tip of the iceberg. This dental misalignment issue can pose a problem to your oral health. Let's talk about some complications that overcrowded teeth can lead to. What you learn may just motivate you to schedule an appointment with an orthodontist in Columbus.
Gum Disease
Gum disease is a dangerous infection of the gum tissue. Left untreated, it can lead to tooth loss and an increased risk of systemic health problems. Crowded teeth may contribute to the development of gum disease because harmful bacteria are likely to get stuck between them. The areas where the bacteria lodge may be extremely difficult or impossible to clean with your toothbrush and floss. The longer the bacteria stays there, the more likely it is that gum disease will result.
Tooth Decay
The hygiene difficulties brought about by overcrowded teeth do more than increase your risk of gum disease. Plaque and bacteria that get stuck between your teeth can easily lead to cavities. Cavities, in turn, can cause significant pain if they remain untreated for too long.
Tooth Wear and Breakage
Overcrowded teeth may contact each other at odd angles when you chew. They are thus more prone to premature wear and breakage than well-aligned teeth. Crowded teeth can also contribute to habitual teeth grinding, which will cause even more wear and tear to your enamel.
Chewing Difficulties
If your teeth do not contact each other properly when you eat, you might find it challenging to thoroughly chew certain types of food. Patients with open bites usually have problems biting on foods with their front teeth.
Bringing your teeth into proper alignment is not difficult if you enlist the help of a qualified orthodontist.
About the Author
Dr. Amin Mason is a board-certified orthodontist and a Diplomate of the American Board of Orthodontics. He offers traditional braces, clear braces, and other treatments that can help to correct crowded teeth. To learn smore about Dr. Mason and his services, contact our team at 614-549-5835.