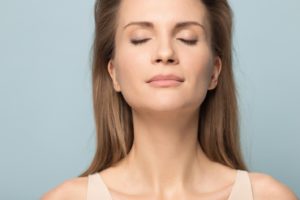 The temporomandibular joints, commonly referred to as the TMJ, are sensitive and complex structures. Imbalance or strain on the TMJ can lead to TMJ dysfunction, which is otherwise known as TMD. One of the primary symptoms of TMD is pain and tightness in the jaw. Do you suspect that you have TMD? You should certainly seek TMJ therapy from a qualified professional. However, there may also be some steps you can take at home to ease the tension in your TMJ and find a measure of pain relief. Let's talk about some jaw exercises that might help you accomplish just that.
Stretching Exercises
Effective stretching can reduce muscle tension and strain. Here are a few techniques for stretching your jaw:
Hold the tip of your tongue against the roof of your mouth. Open your mouth as wide as possible (without causing discomfort), and hold that position for 5 – 10 seconds.
With the tip of your tongue on the roof of your mouth, push your lower jaw out as far as you can. Hold it there for 5 – 10 seconds before you pull it back as far as possible. Again, hold it for 5 – 10 seconds.
Open your mouth as wide as you can and hold your position for 5 – 10 seconds. Then, with your mouth slightly open, glide your lower jaw forward and backward 5 – 10 times.
With your mouth closed and your head facing straight ahead, move your lower jaw to the left and hold it there for 5 – 10 seconds. Do the same thing on the other side.
Relaxation Exercises
TMD is often related to muscle tension throughout the body. Hence, taking some time to relax yourself from head to toe may have beneficial effects for your TMJ. Here are a few simple relaxation exercises:
Slowly inhale, expanding your stomach rather than your chest. Then, slowly exhale. Repeat 5 – 10 times.
While sitting or lying in a relaxed position, flex each muscle in your body, then release the tension from it. This will help you identify areas of tension and consciously release them.
Strengthening Exercises
You shouldn't perform strengthening exercises while you are in the midst of a TMD flare-up. However, you can make efforts to strengthen your jaw between episodes. To strengthen your jaw:
Place your thumb under your chin and use it to provide mild resistance while you open your mouth and hold it open for 5 – 10 seconds.
While your mouth is wide open, place your index finger between your chin and lower lip. Use it as resistance while you close your mouth.
Exercises may be a key part of your TMD relief regimen. A qualified doctor can help you design a personalized plan that will provide long-lasting freedom from jaw pain.
About the Author
Dr. Amin Mason is a board-certified orthodontic specialist who has completed a one-year craniofacial research fellowship at the University of Kentucky in Lexington, KY. He is highly qualified to diagnose and treat disorders of the TMJ. To learn more about Dr. Mason and the services he offers, contact Columbus Orthodontic Center at 614-549-5835.