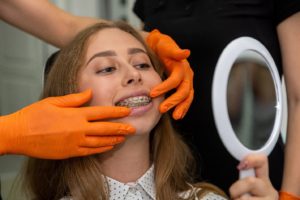 Dental braces are pretty durable, but they aren't invincible. Once in a while, incidents happen that can damage them. For example, an accident during sports or eating the wrong types of foods may cause the braces to break. How should you handle broken braces? Let's talk about some practical steps you can take to get through the situation with as little stress and discomfort as possible.
Call Your Orthodontist
Your orthodontist wants your treatment to be both successful and as comfortable as possible. Don't hesitate to call when you have questions or concerns! If you have a broken bracket or wire, tell your orthodontist what happened, and follow any advice they give you. Depending on the severity of the damage, they might try to schedule you for an emergency appointment within a day or two. When you see them, they will inspect your braces and carry out any necessary repairs so your treatment can get back on track.
Care for Your Mouth
Whatever you do, don't try to repair your braces on your own. You might accidentally make the damage worse! There is also the possibility that you will harm your teeth or oral other tissues. Instead, take practical steps to make yourself as comfortable as possible until you can see your orthodontist. You might:
Bend any protruding wires so they are as flat as possible against your teeth. You can use a cotton swab or pencil eraser to do this.
Use orthodontic wax to cover any sharp or uncomfortable pieces. Simply roll the wax into a little ball, then gently press it against your braces.
Rinse your mouth with warm saltwater to soothe any sores that may have occurred as a result of your broken braces. You might also choose to use an antiseptic mouthwash.
Avoid hard, crunchy, and chewy foods. Instead, consume mostly soft foods, like yogurt, eggs, and soft bread. (This is a rule of thumb for braces in general, but it is especially important when your braces are damaged.)
Use painkillers if necessary. Acetaminophen or ibuprofen may be effective for taking the edge off of any pain.
Continue to stick to your oral hygiene routine, but be extra gentle so you do not accidentally worsen the damage to your braces.
Avoid Future Incidents
Your orthodontist may give you some friendly advice on how to prevent future damage to your braces. For example, they might strongly recommend that you invest in a custom mouthguard for when you play sports. They might also give advice on which foods are least likely to interfere with your braces. Hopefully, you will be able to get through the remainder of your treatment without any more hiccups!
Meet the Orthodontist
Dr. Amin Mason provides comprehensive orthodontic services to residents of the Columbus community. He and his team offer traditional braces, clear aligners, and a arrange of other services. If you are struggling to deal with broken braces or have any concerns or questions about orthodontic treatment, contact us at 614-549-5835.