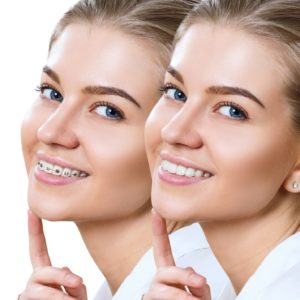 You have been looking forward to braces removal for several months — perhaps even a couple of years. Now that the time to get them taken off is almost here, it is understandable if you have some mixed emotions. Excitement is common, but many patients also feel a degree of nervousness. There is no need to worry. The removal process is relatively quick and comfortable. Here is a simple guide on what you can expect during and after your braces removal appointment.
Taking the Braces Off
Traditional braces are designed to stay on your teeth for a long time, but fortunately, they are also designed to come off quite easily. Your orthodontist has a special tool that loosens the brackets' grip on your teeth. In most cases, the braces can simply be popped off. After the braces are removed, any remaining adhesive will be buffed off your teeth. In most cases, the removal process takes around an hour. You may feel some pressure on your teeth as your orthodontist is working, but you should not expect to experience any pain or extreme discomfort.
After Braces Removal
Once your braces are off, your orthodontic team may take some X-Rays and photos to place in your patient record. You will also receive a retainer soon after your brackets and wires are removed. A retainer's job is to prevent your teeth from drifting back out of place.
There are a few different types of retainers, including ones that are fixed in the mouth and those that are removable. Your orthodontist will recommend the type they believe is best for your situation. If you have a removable retainer, it is extremely important that you wear it as much as your orthodontist instructs. In most cases, this means keeping it in your mouth for at least 20 – 22 hours each day for at least a few months. Eventually, you might graduate to wearing your retainer only at night.
Adjusting to Life without Braces
Here are a few more notes on what to expect after your braces are removed:
Swollen gums and mild bleeding of the gums are common in the first few days after braces are removed. Usually, these symptoms dissipate within a few days and are nothing to worry about.
Your teeth may be a little sensitive, so although you may be eager to start eating foods that were off-limits with braces, it is best to take it easy for at least a few days.
You might notice some uneven coloration on your teeth. That may fade naturally over time. If your teeth are still looking a little lackluster after six months, you may want to ask your general dentist about teeth whitening services.
There is no need to be nervous about getting your braces removed. You will soon be able to enjoy all the benefits that come with a well-aligned smile!
Meet the Practice
Under the leadership of Dr. Amin Mason, Columbus Orthodontic Center provides a wide variety of services, including traditional braces, clear aligners, lingual braces, and much more. If you have questions about orthodontic treatment, our team would be pleased to chat with you. Contact us at 614-549-5835.