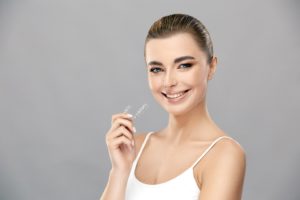 Perhaps the top reason why patients flock to Invisalign is its subtle appearance. The aligners are designed to be as discreet as possible, which makes them ideal for image-conscious teenagers as well as high-power professionals and everyone in between. But did you know that the benefits of Invisalign go far beyond aesthetics? Let's talk about some of this treatment's most outstanding advantages.
Easy Oral Hygiene
Invisalign aligners are removable, which means that they allow you to brush and floss your teeth using normal techniques. This is in contrast to regular braces, which require that you take special measures to clean around your brackets and wires.
No Dietary Restrictions
Most orthodontic treatments require you to make some adjustments to your eating habits. You might even need to avoid certain types of food altogether. However, because you remove Invisalign aligners at mealtimes, you can continue to eat all of your favorite foods (you just have to make sure that your teeth and aligners are clean before you put Invisalign back in your mouth).
Comfort
A bit of soreness is to be expected with any type of orthodontic treatment. However, Invisalign strives to make the entire process as comfortable as possible. The aligners are constructed out of a patented material that was engineered for both comfort and precise tooth movements. The plastic is smooth and thin, making it easy to wear the aligners for the recommended 20 – 22 hours each day. The edges of the aligners are even trimmed in a way that minimizes the risk of irritation to your gum tissue.
Reliable Results
When Invisalign first hit the market a few decades ago, it was relatively limited in what it could do. Today, though, thanks to advancements in dental technology, Invisalign is able to address most cases of mild to moderate dental misalignment, making it a realistic alternative to braces for a wide variety of people.
Quick Appointments
With regular braces, you have to visit your orthodontist periodically to get your arch wire tightened. Invisalign also requires regular appointments, but they tend to be very quick (usually fast enough to take care of on your lunch break). Your orthodontic team will simply check on your progress and provide you with the next few aligners in your series.
Safer than DIY Options
DIY clear aligner options are a hot topic these days — but it's important to keep in mind that such treatments are risky, particularly if they require you to take your own dental impressions. Because Invisalign treatment takes place under the supervision of a qualified dental professional, it is a much safer choice than any type of "at-home" orthodontia.
Invisalign is so much more than meets the eye! If you are thinking about using it to straighten your teeth, you can look forward to enjoying all of the above-listed benefits.
Meet the Practice
Dr. Amin Mason and the team at Columbus Orthodontic Center have already helped countless patients to enjoy the benefits of Invisalign. If you are curious about this treatment or other teeth-straightening methods, we would be pleased to answer your questions. Contact us at 614-549-5835.