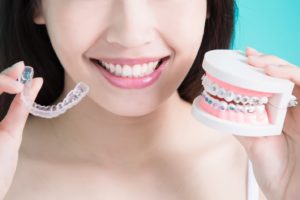 If you have decided to undergo orthodontic treatment, you have much to look forward to! Well-aligned teeth are healthier and more aesthetically pleasing than crooked ones. But which method should you use to straighten your teeth? Braces are a tried-and-true solution that has helped generations of patients, but clear aligner systems like Invisalign have become increasingly popular in recent years. Both types of treatments offer distinct pros and cons. Let's discuss some key factors that can help you compare Invisalign vs. braces.
Effectiveness
Invisalign has come a long way since it first hit the market a few decades ago. Today, it is able to handle the majority of mild to moderate cases of malocclusion. However, it isn't always suitable for severe orthodontic problems. Braces might be a better option if you require extensive or complex treatment.
Aesthetics
Invisalign is known for its subtle appearance. The clear aligners are almost unnoticeable! Traditional braces, on the other hand, tend to call more attention to themselves. However, if you would prefer braces, there are a few options that can help you maintain a professional appearance. For example, you might be a candidate for lingual braces (braces on the backs of the teeth) or ceramic braces.
Dietary Considerations
A common complaint that people have about braces is that their treatment comes with some dietary restrictions. It is important to avoid certain types of food that might damage the brackets or wires. Invisalign doesn't come with limits on what you can eat because the aligners are removable. You simply take them out of your mouth at mealtimes, eat what you want, clean your teeth and your aligners, and put your aligners back on your teeth.
Oral Hygiene
Because Invisalign is removable, it allows you to brush and floss your teeth using normal techniques. Braces require some adjustments to your oral hygiene routine. For example, you may need to use special tools to clean beneath your arch wires, and you will have to take extra care to clean the area around your brackets.
Convenience
Braces are attached to your teeth 24/7, which means you never have to worry that you might forget to wear them. With Invisalign, it takes a measure of self-discipline to wear the aligners for the recommended 20 – 22 hours each day.
Both Invisalign and braces are excellent ways to straighten teeth. Your orthodontic team can help you weigh the pros and cons of each option so you can make the decision that is best for your unique circumstances.
Meet the Practice
Dr. Amin Mason and the team at Columbus Orthodontic Center offer Invisalign, traditional braces, lingual braces, and a range of other treatments. If you are curious about how you can straighten your teeth, we will be happy to help you compare your options. Contact us at 614-549-5835 to ask questions or schedule a consultation.